My name is Sara and I am a plant killer. Well at least that is how I felt after my trip to the Farmer's Market! A few months back I bought the most beautiful succulent, figuring these plants are fool proof! Wrong. Last week I came home to find my succulent shriveled and dead. So this morning walking through the Farmer's Market I spy the cutest little succulents, and I feel the urge to try my green thumb out one more time. I pick out three mini succulents as well as an aloe vera plant. Checking out the woman asked a me a question…and that is when I tell her my sad succulent story…
Her: "So have you ever had a succulent plant before?"
Me: "Yes! I had one, but it died, so I need some new ones."
Her: "Wow! That really isn't supposed to happen…
Leaving me feeling extremely judged and like a plant killer. I tried to defend myself by explaining that my previous succulent was purple and those can be finicky as indoor plants (thank you Google for making me a succulent expert). After that little interaction I was the proud owner of several new plants!
my new adorable little succulents 
I think I am beginning to develop  a little obsession with these trusty (still to be determined) plants. They are all so unique and different. I could spend all day browsing a selection of them. People find the most creative ways to display them as well…so needless to say I turned to Pinterest to find some inspiration. Just search succulents and be amazing by the creativity and beauty in these little plants!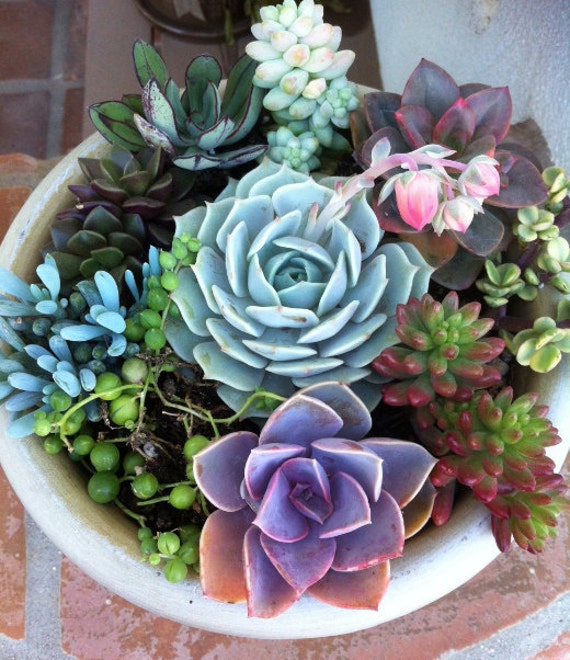 source (This is an example or a Plant Dish you can buy on ETSY!)
I also found some great tips on keeping your succulents alive. For round two, I have moved my succulents into direct sunlight (my windowsill). It is recommended to only water them once every two weeks. Water more in the summer and less in the winter.
Fingers crossed they make it. I do not know if I will be able to buy new ones if these ones croak. I think I will take that as a sign that I am not meant to care for plants.